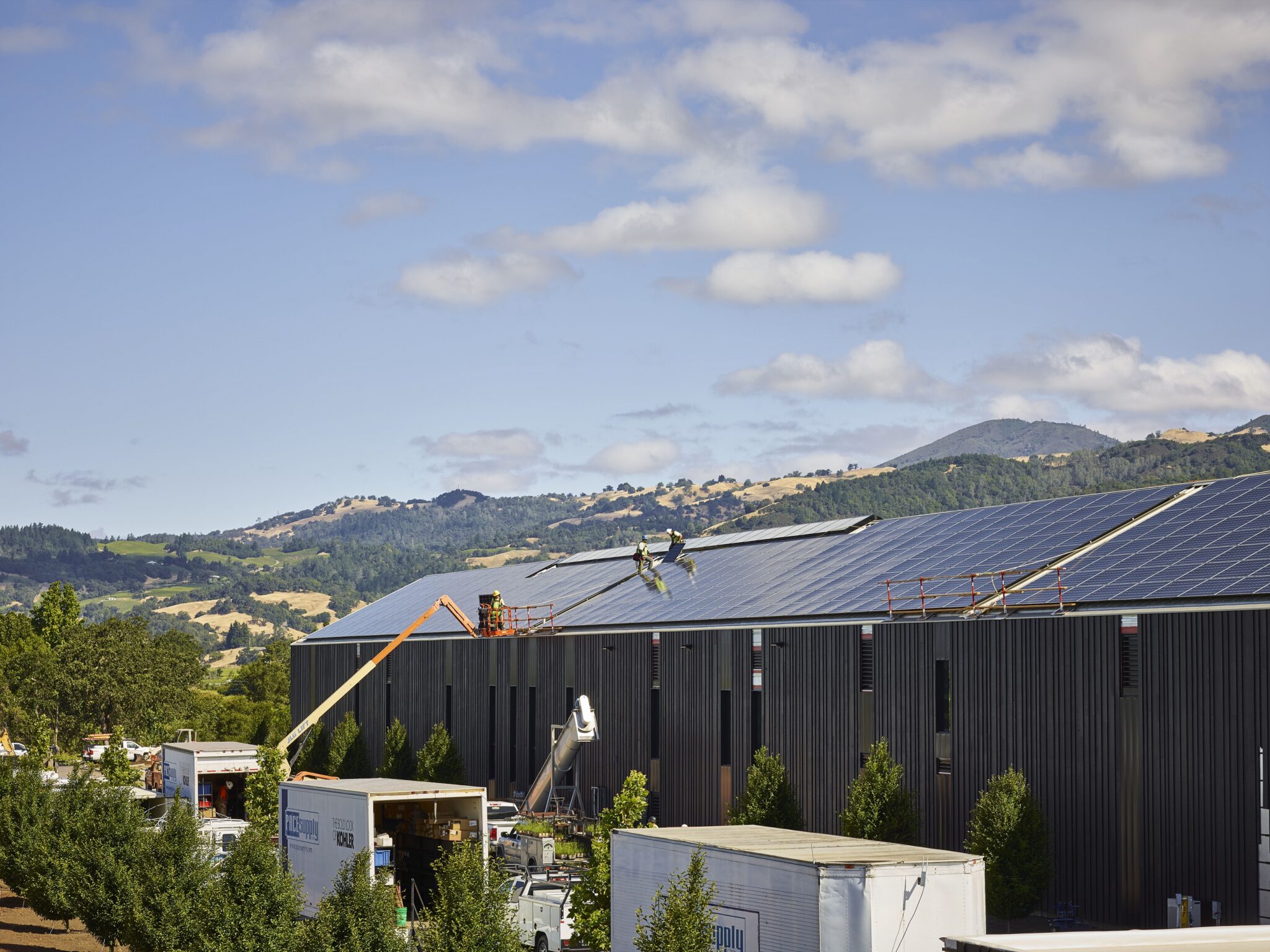 Silver Oak Alexander Valley
The Silver Oak family chose ours to help create the most sustainable winery in the world. We built our mutual trust while rebuilding their winery in Oakville, and deepened it in Alexander Valley a decade later through the profound rigor of the Living Building Challenge. These standards for regenerative design go beyond respecting the environment to replenish it, producing net positive water and energy and enhancing the wellbeing of all involved. Giving back to the land for decades ahead promised an ambitious expedition and a timeless legacy.

Silver Oak's visionary David Duncan and tactician Tony LeBlanc asked San Francisco architect Daniel Piechota to create simple shapes attuned to the vineyard. Teamed from the beginning and gathering weekly, we untangled complications together before they became problems. We doubled our preconstruction process to assure benign manufacture, installation and use of every ingredient and finish. With 3D Building Information Modeling, we planned each piece, avoiding unwieldy resolutions in the field by agreeing early how to intersect raceways of gravity-flow and pressurized pipes. Constant communication dissolved roadblocks as we faced the cascade of questions of how to make a place actively healthy for people and planet.
Clad in a tapestry of redwood from the 1930s Cherokee Winery, Alexander Valley unites the historic aesthetic and modern techniques of winemaking. Function-first, its apparent simplicity holds innumerable complexities. The tasting room ceiling is precisely peppered with electrics and sprinklers within a meticulous pattern of six-inch boards. The burnt-cedar wine library, radiused with leather-strapped, patinaed-steel racks of every Silver Oak vintage since 1972, circles a black basalt boulder that David and Daniel discovered and placed. Flexible facilities anticipate ideas and machines to come, as resilient materials adapt and endure.
We partner well and often with Silver Oak, because we appreciate each other, prompt each other's best, and choose the long term in how we work, who we work with, and what the work can do. Through generations and for generations next, we look to the future to summon our shared endeavors.
100,000 Square Feet
Healdsburg, California
Piechota Architecture
Munden Fry Landscape Associates
Summit Engineering, Civil and Structural Engineer
TEP Engineering, Mechanical and Plumbing
Bauer Associates, Geotechnical Engineer